If you love deep and dramatic lip colors but have been afraid to try them out, then these makeup tips will give you all the confidence you'll need to wear dark lipstick.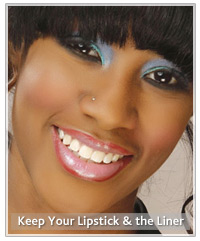 To avoid your dark lipstick fading before the party's over or disappearing and leaving you with just your lip liner (not a good look), apply some lipstick primer, foundation or translucent powder to your lips before you apply your liner and lipstick. It will help your makeup to stick and the color to stay on your lips for as long as possible.

Ensure your lips are in tip-top condition and free from flakes. Dark lip colors will only show up and highlight imperfections so your pout needs to be perfect. For some easy tricks that will get your lips ready for lipstick, see our beauty blog, Luscious Lips with Staying Power.

Use lip liner. Dark shades draw a lot of attention so you'll need to make sure your lips look nice and defined. Just remember to match the lip liner to your lipstick shade and to never use a light lip liner with dark lips (or vice versa). It's just not a good look.

If you're wearing a dark red lipstick, enhance the color with a subtle touch of pink blush on your cheeks. It'll also keep your skin from looking washed out.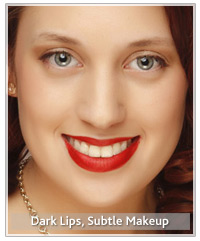 Balance strong lips with a subtle face. Keep your foundation flawless and natural looking, only apply blush if your face needs a slight touch of color, and let a nice coat of black mascara be the only makeup you apply to your eyes. It'll give your peepers some definition and length and compliment your strong lips.

If you do want a look that is a little more made up, avoid going heavy on the eyeliner or dark eye shadow around your eyes or you could end up looking very goth. Gently line your eyes with your liner or shadow for a subtle, smoky hint of color instead.

If you can't find a blush color that matches close enough to your lipstick shade to create a nice complimentary look, apply some lipstick to your fingertip and then gently pat some of the lipstick color onto your cheeks and then blend it in like you would a mousse blush. Just ensure your makeshift blush is not the same level of shade as your lips to avoid a color overload.

Ensure your lipstick is applied perfectly by using a lip brush. Use small strokes and fill in your lips like you're painting them. Using a lip brush means you'll get a more professional looking finish, you can control the depth of your shade, and your color should stay on longer.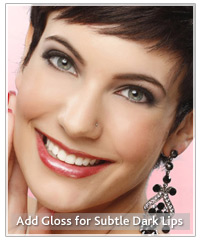 If your dark lipstick looks a little much once you've applied it, mute the shade by dabbing some clear lip gloss over your lips.

Compliment your dark lipstick look with the right hairstyle. A ponytail or bun which pulls all your hair away from your face is the perfect way to give all the attention to your lips.

For the ultimate no fail shade, choose a dark lipstick that will match your skin tone. Cool skin tones should choose dark lipsticks with blue and cool undertones, while warm skin tones should look for dark shades that are warm or golden (think oranges and browns).

If your lips are thin, try dark reds instead of intense black and browns as they will make your lips even slimmer.
Dark Lipstick Shades

We hope these makeup tips will help you to create some gorgeous dark lipstick looks. For even more helpful hints, check out our full range of beauty articles and beauty blogs.