Some girls like more than one: more than one boyfriend, more than one drink, more than one Louis Vuitton monogrammed handbag, more than one pair of Jimmy Choos, and more than one pair of oversized sunnies with a massive "D & G" emblazoned on each side.
Some girls also like more than one hair texture in their 'do; actually, a lot of girls do 'cos this is a hot hairstyle trend right now. So if you're a "more than one type," or you think you might like to have more than one sample of something but you don't want to get caught cheating on your boyfriend, then these hairstyles are for you.
Keira Knightley and Katy Perry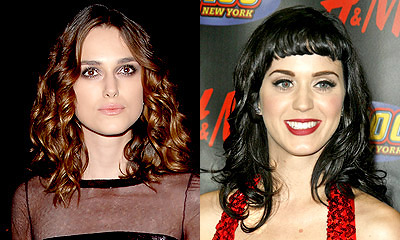 Both Keira and Katy have gone for softer, shinier roots and more tousled longer locks at the sides. I think these two hairstyles look great: kind of funky and sexy at the same time. Keira's got little or no layering around the edges to create weight and volume, and Katy's short, blunt bangs create the perfect contrast to her fabulous waves.
More than one amount of some things is great, but sometimes it can be a bit dangerous. Give it a try, experiment, but be careful.