If you're tired of buns, ponytails and chignons, take a look at our gallery of braided hairstyles and get inspired!
Braids can give you many different looks depending on how many you have, and where they are placed. Generally, the longer and thicker your hair, the better your braid will look, however women with thin hair can make their hair more braid-ready by adding some loose waves for texture and volume beforehand.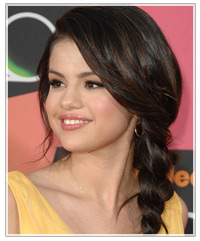 In this photo (right), we see Selena Gomez with a long, loose Grecian-inspired braid. This elegant look is perfect for an evening out and suits long gowns or cocktail dresses.
Selena has brushed her long fringe to the side and left tendrils of hair to frame her face for a soft, elegant look.
Alicia Keys (below) shows us a different take on the braid,and wears a messy fishtail braid (using two sections of hair rather than the standard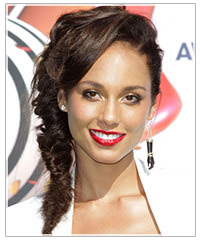 three). She tops it all off with side-swept bangs, with added hair volume near her hair part.
Whatever style of braid you choose to wear, before you begin, add volume to the crown of the head. Start the braid at the ear or lower, and continue braiding until an inch or so of hair is left at the end. If you have hair layers, you will notice that the ends poke out of your braid. Use some hairspray to tame them, or keep your braid extra loose to reduce this effect.