She doesn't take herself too seriously and she has always kept an approachable sense of beauty throughout her career. Sandra Bullock's new look was quite dramatic though, considering she's always stuck with her signature reddish-brown hair, tanned skin and simple makeup over the years.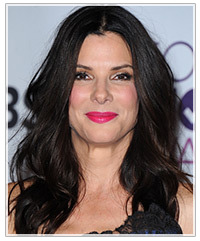 Her new look is more extreme, with her auburn hair dyed a cool black-brown. This shade makes her skin look fairer and gives her that Snow White effect. Her makeup palette has also changed from warm to cool colors. Sandra usually wears neutral earth tones or soft pink shades to flatter her (previously) warm brown hair, but now, with a cooler, darker 'do she has to match her makeup accordingly. She has opted for black eyeliner and a hot pink lipstick to make her eyes and lips pop, along with a rosy pink blush on her cheeks.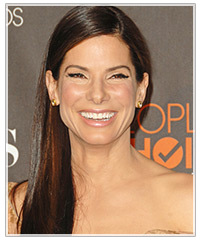 Comparing the two looks, Sandra is more suited to soft, natural shades of makeup and a lighter hair color. While the above look is more eye-catching, it unfortunately adds the years on and takes away her skin's natural glow.
What's your verdict on Sandra's new look? Is her signature look better for her?
To see how you'd look with any of the great hairstyles pictured in this blog, click on the above images to try the virtual hairstyles with your own photo!