Jenny McCarthy has a vibrant personality, and her looks have always been eye catching to say the least. She is the ultimate blonde bombshell with a wicked sense of humour, so a subdued and conservative look is hardly going to cut it for her. Case in point, here is her latest loud look. It's a nice touch that her striped top matches her pink lips and blue eyes, but what is your verdict on the rest of it?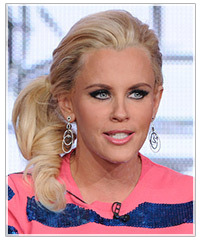 To start, Jenny is rocking her California blonde hair in a curly side ponytail with lots of volume in the crown. She has swept her hair back off her face, which suits her oval face shape. But what about the ponytail? Is it too juvenile for Jenny? While you ponder that, let's move onto the makeup.
Jenny is going for her signature look of smoky black-rimmed eyes, which brings out those baby blues. Her tanned complexion may be too rich for a cotton candy pink lipstick though. A sophisticated nude shade would've worked better here.
Overall, Jenny is sticking to her Barbie-esque look of tanned skin, ultra blonde hair and smoky black eyes. What is your verdict on her latest look, complete with a cheerleader-inspired side ponytail? Is Jenny looking too juvenile, or is it a jovial, fun look that she should keep?
To see how you'd look with the hairstyle pictured in this blog, click on the above image to try the virtual hairstyle with your own photo!