So it was quite a shock when Dakota went to the dark side and transformed her look with chestnut tresses! But before we give our verdict on her new hue, let's take a closer look at Dakota Fanning now, and then.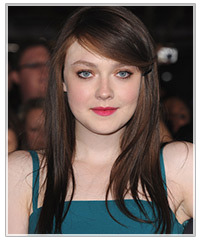 Dakota looks more mature and sophisticated with darker hair, and her light blue eyes are intensified by the contrast of light and dark colors. Her eyebrows are slightly lost with dark hair (something that is common when natural blondes go dark) but it's nothing that a little eyebrow pencil can't fix. Her fair skin looks nice with this shade, although those orange undertones should be covered with a cool brown for best results.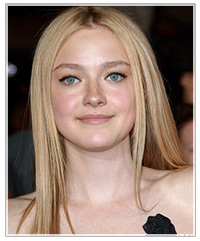 To compare, back in the day when Dakota was a blonde, her complexion looked pure peaches and cream skin, and her eyes were still nicely intensified. Overall, this look is more "all-American girl" so maybe with the darker hair she will be offered more edgy, exotic or artsy types of roles in the future. The blonde looks more natural on Dakota, but it also makes her blend in with the bevy of Hollywood beauties on the big screen.
 
What's your verdict on Dakota's new hair shade? Is she better as a blonde or brunette?
To see how you'd look with any of the great hairstyles pictured in this blog, click on the above images to try the virtual hairstyles with your own photo!