If you like her edgy hairstyles but don't want to copy her shaved sides, you can recreate a similar look, as our model demonstrates here.
Here's how to get a Willow Smith inspired hairstyle in only a few minutes.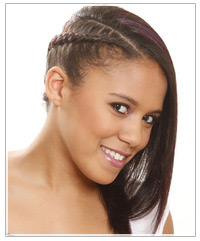 To start, you will need hair that is long enough to braid. Girls with a short bob may be able to achieve this look with the help of hair pins… and some patience!


For ladies with longer hair, begin by blow-drying your hair into a sleek, straight style.


Create a deep side hair part. You can keep it straight or for extra cool factor, make it a diagonal part.


Begin at the front and create three equal sections of hair. For a large braid, use large sections and for a small tight braid like our model, use tiny sections.


Braid the hair towards the back of the head by pulling the hair sections underneath each other so that the braid sits on top, not underneath like a French braid.


Once you have reached the nape of your neck, pin it or use a hair elastic to tie it into place.


For an extra dose of Willow Smith style, add some bright pink and blue clip in hair extensions on the side where the hair is down.
(Funky outfit and superstar parents are optional! )
To see how you'd look with this hairstyle, click on the above image to try the virtual hairstyle with your own photo!