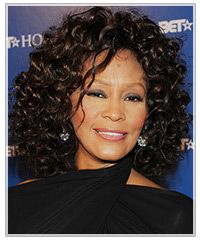 In this recent photo, Whitney Houston proves she's still got it. We've all seen her look worse for wear while she battled her demons, but now she is looking in top form again, not to mention she is ageing fabulously.
Her classic, simple hairstyle can be worn by women of all ages and face shapes with medium-sized curls. Her hair has been nicely layered all over to show off her curls and create a soft, rounded silhouette, rather than the bottom-heavy shape girls with curly hair can end up with. She has allowed the front of her hair to drape over her face which creates a nice angle and draws attention to her eyes. Whitney has an oval face shape with a high forehead, so wearing styles that have a bit of coverage around the top can make everything look in proportion.
Whitney's fabulous cut would be nothing if her hair was damaged, so it's a good job she has shiny, healthy hair. Her rich dark brown hair color also compliments the cut nicely. If you have curls like Whitney, copy her haircut—and her hair care regime!
See more Whitney Houston looks here.