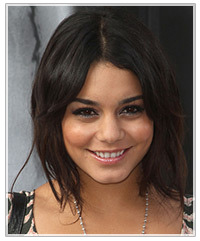 Ok, we get it. The 'soccer mom' crop was for an upcoming role, and Vanessa Hudgens is now desperately trying to grow out her gorgeous hair. Growing out a short hairstyle is a painstaking process. There are many awkward and unflattering lengths to go through before you are finally back to your cherished long hair, but, it is possible to look good in between.
Vanessa, on the other hand, is going from one bad haircut to another. Granted, the idea of a cute graduated bob hairstyle really suits her adorable face, but the execution of it in this photo is mediocre at best. Why, you ask?
For one, Vanessa has lovely thick hair with natural wave in it, so to wear this chic bob is going to take hair styling time, and lots of it. She would either need to blow-dry it straight or at least run the hair straightener through it, to really show off the angle of the cut and (more importantly) to look polished. The fly-away waves here look messy and unkempt.
The other big problem is the ends. While it's great to take out the heaviness in the bottom of a bob (especially for those with thick hair), too much has been taken out here, leaving the ends stringy and jagged.
If you have thick hair with a wave like Vanessa, you can rock a bob with some styling time and the right cut. Or, you can just leave it long, like the this classic Vanessa Hudgens hairstyle.
See more of Vanessa's hairstyles and try the hairdos on with your own photo using our Virtual Hairstyler.