It's not easy when your teenage pop star boyfriend is being accused of fathering a child with another woman, but Selena Gomez has managed to keep herself together nicely during this tumultuous time. If anything, her hair and makeup have never looked better!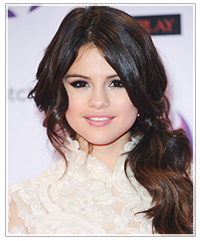 In this photo, Selena's long locks have been tied into a perfectly messy low side ponytail, which works great for girls like her who have super thick hair. Her loose waves have lots of body; this is one way to make the most of it while ensuring that it doesn't become too unruly. 
To flaunt this look, it's best to have medium to thick long hair, with natural waves. If you don't have natural waves but still want the extra volume, simply set your hair in rollers beforehand, and then comb out with your fingers. Part your hair on the side, à la Selena, and secure the rest of it at the nape of the neck, just behind the ear. Grab a piece of hair from the bottom of the ponytail and wrap it around so it covers the fastener and voila! Selena hair is yours. Be sure to leave out some tendrils around the face for a romantic look.