Here, Ms. Selena Gomez is getting us in the mood for summer with her messy beach wave hair. This is the perfect style for summer days because it's carefree and cute, plus it works just as well at night time while you're out on the town. If you have shoulder-length or longer hair, you can get this look two different ways—choose which end result you desire most.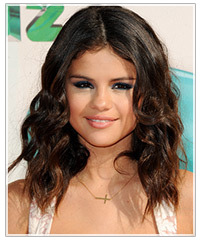 1. Curling iron—Selena's waves are messy, but you can still see that they have been coiffed carefully using a clip-less curling iron. In case you have never used one, it's basically a metal rod that you hold while twisting your hair around the barrel, leaving the ends out. If you have super- thick hair, this can be time-consuming, but this curling method will give the best results.
2. Braids—the cool thing about Selena's 'do is her pokey ends that give it an edgy feel. If you want less curl and more kink, put several braids in your hair the night before and sleep on it. This will give you a wilder version of Selena's look.
After you have added the waves with your chosen method, separate your hair with your fingers, add some styling wax through the ends and you are ready to rock!
To see how you'd look with the great hairstyle pictured in this blog, click on the above image to try the virtual hairstyle with your own photo!