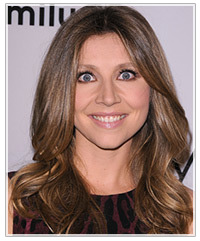 Sarah Chalke has unveiled a darker shade of hair recently, going from her signature light blonde to warm light golden brown. It seems that Sarah is one of those ladies who can swing from blonde to brown with ease, but what shade suits her better?
First, let's look at her complexion. Sarah has pink undertones in her skin that often clashed with the buttery blonde shades she used to flaunt. This new shade is much softer next to her skin and neutralizes any excess pink.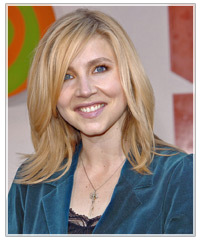 Her blue eye color actually pops more with the blonde hair color, however the light brown color makes her eye color more intense without washing out the rest of her face, like the blonde did.
Finally, her makeup style seems better suited to her soft new color. Sarah often wore shades of gold and chalky pinks to match her light hair tone, but unfortunately it didn't harmonize well with her skin tone. Thanks to her darker new color, Sarah can wear muted greys on the eyes and a subtle rose pink on the lips—perfection!
What are your thoughts on Sarah's new color? Is she better as a (light) brunette?
To see how you'd look with any of the great hairstyles pictured in this blog, click on the above images to try the virtual hairstyles with your own photo!