Rihanna stepped out recently wearing a dramatic new short hairstyle that makes her look like a modern day Betty Boop…maybe she's not such a bad girl after all!
This feminine pixie-style cut looks great with her gorgeous features, not to mention that the natural black hair color looks flawless with her latte complexion and green eyes. Finally, Rihanna has ditched the crazy red weaves and is going for a more demure look.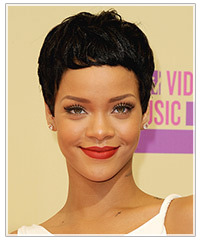 To go with her new haircut, Rihanna chose simple makeup for a modern, fresh look. Her green eyes have been highlighted with shades of peach, brown and bronze and her lips look fabulous in matte red lipstick. Rihanna has also used a soft brown pencil to fill in her eyebrows, which is especially important when you are wearing a dramatic, face-framing hairstyle.
To finish off the entire look, Rihanna chose a gorgeous white dress and matching diamond stud earrings. Dangly or drop earrings would be another good choice for ladies who have pixie cuts like Ri-Ri, but just make sure they don't overpower the simplicity of the look. This is just one example of how keeping it simple with your hair, makeup and clothes can produce stunning effects.
To see how you'd look with the great hairstyle pictured in this blog, click on the above image to try the virtual hairstyle with your own photo!