The scenario: you get a last minute invitation to join your friends at (insert trendy hangout here). But—eek! Your hair is a mess and you don't have time to wash, dry and style. What's a girl to do? Copy Bella Thorne, that's what. This cute 'do looks just as good with jeans as it does with a gown, and it works for any hair type- how versatile!
Here's how to get the look: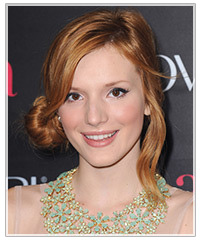 1. Take a comb and add some volume in the crown of the head, especially if your hair hasn't been washed recently…it will need some lifting due to the natural oils on your scalp that weigh it down.
2. Smooth your hair into a side ponytail just behind your ear, left or right- you decide! If you have layers or a fringe, you can leave these pieces out to frame your face. Or, you can slick it to the side with the rest of your hair.
3. Twist the ponytail into a bun and then fasten with hair pins.
4. Voila! You now have a stylish updo in less than five minutes.
And don't forget about your makeup. Bella does it just right with simple eyeliner, rosy cheeks and pretty pink lips.
To see how you'd look with the great hairstyle pictured in this blog, click on the above image to try the virtual hairstyle with your own photo!