Actress Lili Simmons was recently spotted looking fabulous on the red carpet, sporting a modern version of the vintage look that is always so popular at these events. But, thanks to her makeup, she stood out from the crowd and wowed with her blend of old and new style influences.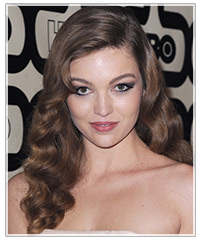 Her hair was a blast from the past, reminiscent of the glamorous Forties era and the silver screen sirens who always had impeccably curled hair. Lili created her curls from rollers or a curling wand, then combed through them to get that soft and sophisticated look. A deep side part was worn and looked fantastic on her oval face shape.
Her makeup, on the other hand, was 100% modern. Instead of going for the typical black liquid eyeliner and red lipstick look, Lili opted for more muted shades to match her complexion and her oyster colored dress. Her eyes were accentuated with heavy black eyeliner and prominent wings created by dark grey eye shadow, and her full brows were groomed to perfection. Her cheeks and lips were left neutral, with only a hint of berry on the lips.
This is the perfect look to try if you have a formal event to attend and want to stand out from the crowds.
For even more helpful makeup hints, see our full range of beauty articles and beauty blogs. You can even try some virtual makeup on your own photo or our model using our Virtual Hairstyler!