Ms. Julianne Hough is working this style with flair at a recent red carpet event, showing us how high-volume bangs can direct attention to your eyes while looking super glam. Here is how to get the style: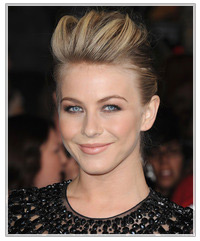 • First, style your hair into your updo of choice—a bun, roll or twist works especially well here. Add volume to the crown your the hair by backcombing it. Leave your fringe area out for the time being. If you have a thin fringe area, you may want to leave additional hair from the front and crown section out to make your "windblown" section fuller.
• Once your updo is complete, start to add mega volume to the remaining loose hair in the front by backcombing it at the roots with a fine comb. Do this for all of the hair except for an inch-wide section at the front hairline. That will visible from the front and needs to stay smooth.
• Once your backcombed roots have been sprayed, sweep the hair back in sections, twisting it slightly at the ends before pinning it into place. Start at the back and make your way forward to the hairline, spraying each section to hold it once it has been pinned with hair pins.
To top it all off, wear dramatic eye makeup like Julianne for best results!
To see how you'd look with the great hairstyle pictured in this blog, click on the above image to try the virtual hairstyle with your own photo!