Thanks to her Native American roots, Julia Jones is blessed with thick dark hair, large penetrating eyes and a fabulously strong bone structure. She doesn't need to wear makeup to turn heads and does the natural look with ease. She has worn her hair long and short and to be honest, all of her hairstyles look great.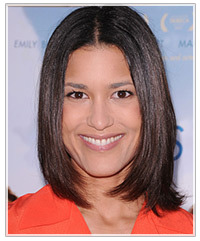 This one, however, is not her best. Julia has a very strong cheekbone and jawline structure, so lots of layering and slicing is needed in her hair to create dimension- all of which this style is lacking. The centre hair part and flat-ironed hair texture is also not working for her face and makes it look bottom heavy.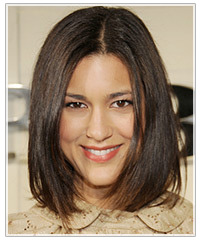 To contrast, look at how an off-center part, graduated layers and a little body do wonders for her face! This is a much more suitable cut for women with strong features. If this applies to you- remember to get lots of movement in your cut for best results.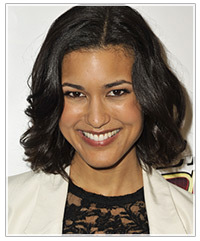 Curls and waves look fabulous with a strong jawline too! Julia looks  stunning in a side hair part and softly curled shoulder-skimming bob.
What style gets your vote for this Twilight beauty-smooth and sleek or body and bounce?
To see how you'd look with any of the great hairstyles pictured in this blog, click on the above images to try the virtual hairstyles with your own photo!