Angelina Jolie has kept her hair the same for eons now. While she experimented in her younger years with pixie cuts, raven black hair and bottle-blonde locks, she has now settled in to her trademark chestnut 'do. It's easy to see why this works for her—it's a low maintenance style (which you need with 6 kids to look after) and always looks gorgeous on the red carpet after a styling team gets through with it.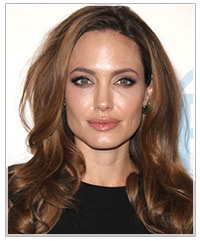 Angelina is usually seen at events with her hair in a sleek updo or left down and straight, sometimes with a few waves added in for volume. However her latest look, shown here, is definitely more girlie than usual and looks exactly like Kate Middleton's signature hairstyle. While Kate's is a deeper shade of brown, Angelina's glossy mane complete with perfect curls at the ends is 100% Duchess of Cambridge, which is not a bad choice. Kate's hairstyle and hair color is now one of the most requested looks and has become known as "The Chelsea Blow-Dry", after the posh area in London where Kate gets her hair done. It could be coincidence, or it could be that Angelina adores Kate's elegant style. In any case, this sophisticated look suits Angie just fine, especially when paired with her soft eye makeup… unlike Kate, who is still married to her signature heavy black liquid liner.
Who do you think works this hairstyle better? Hollywood hottie Angelina, or British beauty Kate?