If you love comedienne du jour Chelsea Handler's beach babe looks, have no fear—this is a low maintenance look that can be worn by almost anyone. Well, anyone that suits blonde hair that is! But even if you don't copy the hair color, her wash and go style is easy to achieve.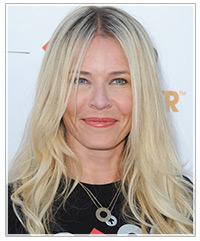 To get Chelsea's bed head look, you will need to have shoulder length or longer hair with layering throughout the ends. Start by blow-drying your hair straight with just a bit of wave at the bottom. Or, if you hate blow-drying your hair, let it dry naturally with extra large hair rollers in it. Once your hair is set, unroll it and create a hair part down the middle. Tease it at the roots and throughout the ends to give it that messy finish, and voila—your bed head look is complete.
On the makeup front, Chelsea keeps it plain and simple. A bit of brown eyeliner, mascara and a pretty pink lipstick is all she needs to get glammed up. Those of you with warm skin tones can also use nude lipstick for a different vibe.
Chelsea Handler's hair and makeup isn't for women who like to look preened and high maintenance, but if you're a laid-back lady with a simple style, this look is just for you.
For even more helpful makeup hints, see our full range of beauty articles and beauty blogs. You can even try some virtual makeup on your own photo or our model using our Virtual Hairstyler!