Aussie actress and teen idol Alli Simpson is blessed with typical good looks- Oz style. Sparkling blue eyes, tanned skin and beachy blonde hair is exactly how most people from around the world picture Australians, and Alli fits the bill perfectly. Like most teens, Alli likes to wear her hair long, layered, and parted in the centre, which is fine. However, this is probably one of the worst cuts for her face shape.
Alli has an angular, square face with a high forehead. Her haircut accentuates these features rather than flatter them. If you have any of these attributes, here's what to do: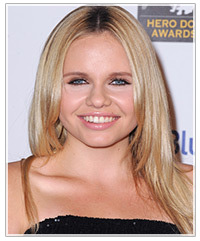 • Do not use a centre hair part if you have a square, rectangular or otherwise angular face. Always use a deep side part.
• Have an angled side-swept fringe or rounded full-on bangs cut in if you have a high forehead. On either style, make sure there is lots of layering and texturizing. This will soften up hard angles.
• If you have a square face, have your hairstylist angle your haircut so that the front is slightly longer. This creates an oval shape to the front of the hair and minimizes any squareness. Ali will probably start to experiment with more layers and fringes as she gets older, which will be much more flattering for her gorgeous face.
To see how you'd look with the hairstyle pictured in this blog, click on the above image to try the virtual hairstyle with your own photo!