Even as a mature lady of 67 years (yes- you read right!) Debbie Harry is still looking divine. In fact, the paparazzi infamously mistook her for Lindsay Lohan once- oh snap! Who says you have to go grey and dress like a granny once you hit sixty anyways? Keep your inner rock star alive and style yourself like Debbie does. Here are some ways to get this look. Try it out and let us know if you also get mistaken for someone 40 years younger!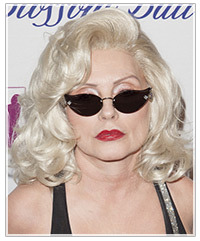 Debbie's hair is a platinum blonde shade that is easy for a mature women to pull off.


The trick to looking chic with platinum blonde hair at 67 (or older) is to make sure it's an ashy cool blonde, not a buttery yellow.


Use hair rollers to add curl to your hair if it is naturally straight—this will give you oodles of volume as well. Separate it with your fingers to create body, and try flipping your fringe area to the side for a carefree look.


Debbie's light pink eye shadow looks great on mature women as it's trendy and brings light to the eye area. Match it with a daring red lipstick but stick to a deep, pink red rather than fire engine red. Also choose a créme formula of lipstick for best results.
To see how you'd look with the great hairstyle pictured in this blog, click on the above image to try the virtual hairstyle with your own photo!