Emily Blunt is always ahead of the trends, and when it comes to her hair she is rocking many trends at once with this simple 'do.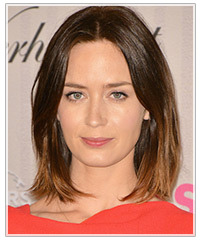 The bob has been back with a vengeance in 2012, and this style suits Emily's oval face perfectly. Instead of a blunt, dramatic style of bob, Emily has gone for layers in the ends and around the face. This is a great idea if you have a square or otherwise angular face, or if you prefer a looser, carefree hairstyle. Blunt bobs can look harsh on some faces, and they also take a lot more work to style. If you like wash-and-go styles, Emily's bob will work well for you.
As for the hair color, Emily is more of a trend-follower than a leader with the ombré ends. Her natural dark brown chocolate locks transform into a light golden brown at the ends.
Our two cents:
Emily's beauty isn't maximized with this simple cut. The centre hair part is boring—a dramatic side-swept fringe would have glammed up this hairstyle and brought attention to her eyes. The color technique looks much better on long hair and the brassy tones at the bottom does nothing for her skin.
What's your verdict on Emily's hair—do you like it or loathe it?
To see how you'd look with the hairstyle pictured in this blog, click on the above image to try the virtual hairstyle with your own photo!