It's hard to believe that Claire Danes gave birth to her first child only a matter of weeks ago…how does she do it?! For this event she pulled out all of the stops and ended up looking anything but exhausted. If you're a new mom, here's how you can get Claire's yummy mummy look.
The Hair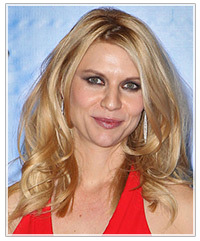 This sexy, tousled hairstyle will make you feel like the next Bridgette Bardot! After blow-drying your hair, set it in large hair rollers to add body and volume. Once the hair is set and un-rolled, add volume by backcombing the roots all over and spray them to lock in the body. Create a jagged hair part starting from the side. Then, touch up the ends with a curling iron if necessary. Use some wax to separate the ends and then some hairspray to hold it for the night.
The Makeup
Claire has gone for a smoky eye, which is great for camouflaging the dark circles from all those late nights. A soft pink blush and lipstick polishes this look off nicely.
The Dress
When in doubt, wear something cherry red to give you a style and confidence boost!
To see how you'd look with the great hairstyle pictured in this blog, click on the above image to try the virtual hairstyle with your own photo!