If you usually wear your hair down, the Christmas holiday season is the perfect time to try something new, so get some ideas from these celebrities.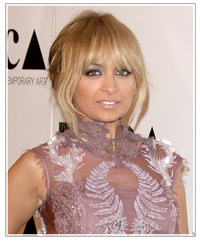 Nicole Richie is a big fan of the Seventies-inspired retro look, so if you are looking or something a bit different, this may be the updo for you. Nicole has left her fringe down, with long hair layers framing her face. The rest of her hair has been twisted into a loose roll which looks fabulous with her vintage gown. This is a very relaxed updo and looks best with a trendy (not conservative) dress.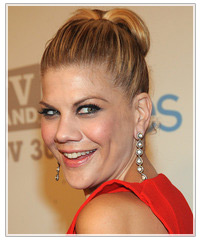 Kristen Johnston wears her hair in a playful top knot, which looks great with her red dress and dangly earrings. This is a fast updo—simply tie a high ponytail in your hair and leave the ends tucked in the fastener.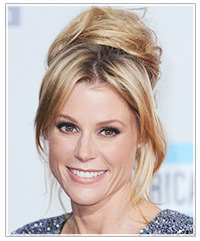 Julie Bowen does a fun and flirty updo with a loose bun high on the crown of the head. This is a great look for women who don't like to wear their hair right off their face. To copy this style, keep your hair part messy and leave the layers around your face down. Create hair volume at the crown by tousling the lengths and ends of your hair before loosely wrapping it into a bun.
See how you'd look with these great hairstyles by clicking on the above images!