Camilla Belle is an American actress with some seriously exotic looks, most likely inherited from her Brazilian mother. With her thick eyebrows, tiny nose and large luminous eyes, Camilla looks like a life-sized doll and can pull off so many looks effortlessly. Here are some of Camilla's best looks-which one is your fave, sexy or sophisticated?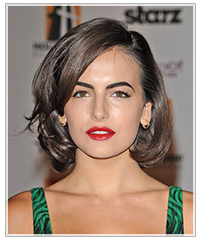 Here, Camilla goes retro with red lips, super-groomed eyebrows and glossy locks that have been swept to the side. This short hairstyle looks fabulous with her face shape and gives her a sophisticated edge.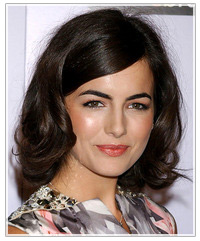 In another version of the retro look, Camilla has left more curls and bounce in her hairstyle, and switched up the black and red makeup palette for modern peachy tones. Her sun kissed cheeks and glossy peach lips look amazing with her dark locks. This hair and makeup suits her girlie, feminine clothing.
Here, style chameleon Camilla goes sexy with long tousled waves, smokey eye makeup and nude lipstick. To match her edgy look, Camilla wears a black top and silver jewelry.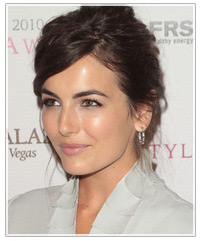 For a sexy updo, Camilla sweeps her wavy hair back into a French roll and leaves some face-framing tendrils around her face. This sophisticated hairstyle looks fabulous with her light grey ruffled dress.
Camilla can do both sexy and sophisticated looks-but which one suits her the best? Leave a comment voicing your choice below.
To see how you'd look with any of the great hairstyles pictured in this blog, click on the above images to try the virtual hairstyles with your own photo!