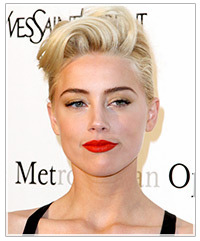 From the platinum blonde locks to the red lipstick and cleavage-baring outfits, Amber Heard knows how to turn heads. She also knows how to pull off the edgy, early Eighties Madonna look with ease. Think Desperately Seeking Susan meets the red carpet- that's what we have here in Amber's latest look.
Rather than choosing a super-slick hairstyle, Amber has gone for a classic French roll in the back with a high-volume bang in the front. The loose curls and windswept effect give it a retro feel that is edgier than a typical red carpet look. It also suits her oval face shape perfectly.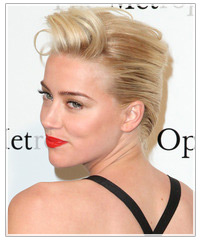 To give it the Madonna-effect, Amber has accentuated her thick, dark eyebrows and used a bright blood red shade on her lip, reminiscent of the early Madonna days. Prominent dark brows are making their way back into fashion, so if you are blessed with full brows, put the tweezers away and use them to your advantage! Although Amber has created this look for a red carpet event, it would look just as cool on casual days with a pair of shades for extra Eighties effect.
To see how you'd look with the great hairstyle pictured in this blog, click on the above images to try the virtual hairstyle with your own photo!