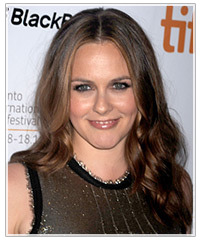 Alicia Silverstone will be forever known for her role as Cher, the lovable but ditzy blonde from Clueless, which has become somewhat of a cult classic over the years. Silverstone's die hard fans will do a double-take when they see her new darker hair color, but what will the final verdict be—is her new color modern and mature? Or just plain mousy?
Actresses often change their hair color when they are looking for new roles or trying to change the media's perception of them. Silverstone is probably desperate to shake off the bubble gum blonde look, and her new darker shade definitely gives off a more mature vibe. But, it also takes away some of her sparkle. It could be down to the actual tone of her hair, which seems auburn on the ends and dark ash blonde at the roots, but this color seems to make her blend in with the crowd. Alicia is also going neutral with her makeup, and wearing earthy brown based tones to coordinate with her new shade.
What do you think of Alicia's new color? Should she stay on the dark side or get back to her Clueless blonde roots? Leave a comment below.