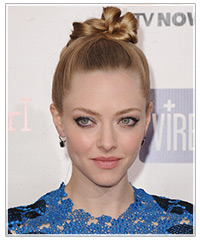 As you probably know, one of the biggest hair trends for 2013 is knotted hair. But we aren't talking bulky, messy knots—we're talking slick, sophisticated intricate twists and knots. Amanda Seyfried is showing us this hair trend in action, sporting a gorgeous twisted knot at the Critic's Choice movie awards. Paired with her beautiful gown, this was a stunning red carpet look. If you need an ultra modern, chic way to wear your hair for an upcoming special event, this is definitely a look to try out.
You will need to have long hair for this style- long enough to scrape back into a ponytail and still have some length left. Once you have your tight high ponytail, take small sections of your hair and twist it around, pinning it to the crown of the head once you have made a nice loop with the hair. You can play around with this look too and create larger "loops" for more volume, or keep it flat to the head for a more conservative look. Whatever style you decide to go for, finish it off with a super hold hairspray followed by a shine spray.
To see how you'd look with the great hairstyle pictured in this blog, click on the above image to try the virtual hairstyle with your own photo!