With an Eighties-inspired hairdo and makeup, not to mention the shaved eyebrow, Charice is looking like anything but a pop princess! Instead, she is going for a look from the dark side that is 100% rock n' roll.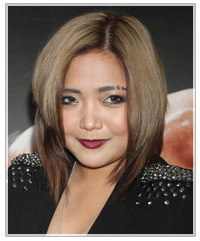 Her hair has been cut into a layered bob that has geometric layers at the top and middle which look great with her prominent cheekbones. Her naturally black hair has been lightened to a dark ash blonde, with the under layers remaining dark for a nice contrast.
On her face, Charice is going for a retro makeup look complete with super smokey eyes and wine-red lipstick. Charice is bang on trend with the jewel-tone lipstick, and it has a nice gloss to it to match her sparkly top. To complete the Eighties influence, Charice has shaved her eyebrow in the style of Vanilla Ice and various other rappers from the 80s and 90s.
Charice has a gorgeously cute face and can pull this glam rock look off without a hitch, but what's your verdict? Does the edgy look suit her, or should she revert back to her pop princess roots?