Tyra Banks knows how to turn heads both on and off the catwalk, but what do you think about her latest look? Tyra is rocking a truly matte makeup look with her little black dress and long, loose waves. Hair and clothing aside, is Tyra's matte look something that you'd flaunt on a night out, or rather, wouldn't be caught dead in?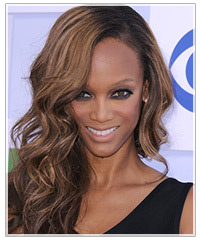 Let's take a closer look. On her lips, Tyra is wearing a barely-there nude pink shade that has no sheen or gloss to it. The soft pink undertone makes this shade match the pink blush on her cheeks and gives a slight glow to her face. Had she chosen a beige-based shade, she would have looked too chalky.
On her eyes she is wearing a heavy dose of matte black and charcoal grey eye shadow. Her entire eye is rimmed with shadow and the edges have been slightly smudged out. This is a vampy makeup technique that highlights her huge feline eyes.
If you love this look and want to copy it, pair it up with a loose hairstyle like Tyra's. If you prefer a more severe look, scrape your hair back into a high ponytail. Try it out and let us know how this look worked out for you in the comment box below.