Actress Tisha Campbell has a great base to work with. Beautifully arched eyebrows, sparkling wide-set eyes, a great complexion and bright smile are all assets when it comes to looking good. And usually, she does. However, here we see her looking overdone and in what is generally known as a makeup fail. Let's see what went wrong.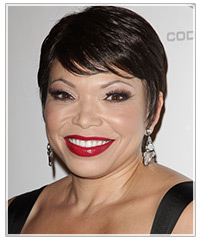 1. The foundation. Tisha has gone one shade too light and has ended up with a chalky face that doesn't match her body's skin tone. This can also happen from overdoing the primer or highlighter before you apply your foundation so beware!
2. The eye shadow. Tisha has chosen a dark brown eye shadow and black eyeliner to bring out her eyes- a good choice considering she has dark eyes and hair. The fail occurs because there is not enough blending, resulting in little half circles of eye shadow on the lid—not a good look.
3. The lips. The golden rule of makeup is to never wear a bold eye and lip together. Tisha should have chosen a nude or peach lip to go with her dark brown shadow or else rocked a plain eye with those mega bold lips.
Take note of Tisha's makeup fail and avoid the same mistakes!