While a bold blue eye may be color overkill for blondes and redheads with fair skin, ladies with dark skin and hair can pull it off just right. Wearing blue is a great way to add some color to your look. After all, wearing the same neutral colors day after day can get boring! Here's how to get the look: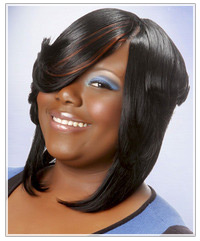 Start with a glowing base. Use highlighter on the cheeks and brow bone like our model here has done.

Then it's time to begin on the eyes. Start with a shimmery pearl shade eye shadow and cover the entire eyelid, blending it up towards the brow bone.

Use a powdery periwinkle blue shade on the lids and blend it towards the crease of the eye. Then apply a deep sapphire blue in the crease of the eye. You can also use a thin brush to apply the sapphire shade as eyeliner. Our model has created dramatic wings for an extra glam effect!

To finish it off, apply a sheer lip gloss and blush with just a hint of neutral color. Our model has used a soft nude shade with high-impact sheen for an all-over glow.