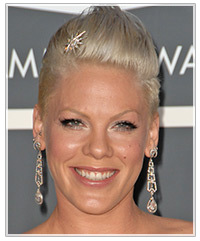 By the time Pink got the party started, we were already in love with her edgy cropped hairdos, tough girl attitude and punk-inspired wardrobe. Oh yeah, and her amazing voice and insane abs! Nowadays, Pink is on a mini-hiatus celebrating her new baby daughter and generally looking chilled-out and fabulous.
Her ever-changing hairstyle is an endless source of inspiration for girls who want anything but boring hair. Shaved, cropped or spiked, Pink pulls of some seriously daring hair styles. Ironically, her makeup is usually quite soft and smoky (excluding the Moulin rouge look of course). She brings out her icy blue eyes and highly arched brows by using eye shadow shades of black, grey and blue, blending it out around the eye. She's usually sporting platinum blonde locks, but when she opts for other colors like dark brown or pink, she wears a bit more makeup around the eye, so her features aren't washed out.
Pink goes to extremes with her choice of lip color. Usually, she sports a natural nude lip, but for evening she goes for show stopping red or bright, you guessed it, pink lips.
To see more of Pink's hair and makeup looks.