You don't want to go overboard on the pastel and end up looking chalky or washed out, yet other colors can seem too heavy in some cases. Nicole Richie looks great in pastel colors by wearing just the right makeup. Here's how she does it: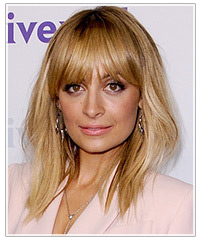 • Keep the glow in your complexion and avoid looking washed out by using a bronzer on your cheeks. Especially if you are wearing pastel pink, bronzer gives a hint of warmth without overdoing it in the pink department.
• On the eyes, use a dark eyeliner pencil to make them stand out. Nicole has chosen a deep brown-black here, but you can also try charcoal and chocolate shades. A sweep of soft mocha eye shadow or neutral beige is just enough to do the trick on the eyelids. Follow it up with mascara.
• On the lips, try a pink lipstick that has a sheen or gloss like we see here on Ritchie. Light pink lipstick that is too matte will end up looking chalky, so remember to wear a light-catching lipstick formula when you wear pastel shades.
• Finally, you need some jewellery to top it all off. Pastels generally look good with silver, but a light gold also looks fab with pastel pink, blue and yellow.