Natasha Bedingfield is the latest celebrity to experience a hair and makeup fail on the red carpet. She usually rocks up to events looking like a supermodel but her latest hairstyle and makeup job are anything but fashionable. Here's what went wrong: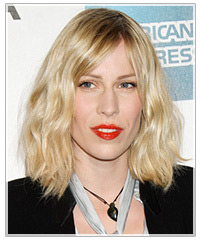 • Natasha has an oblong face shape, which doesn't work well with a centre or off-centre hair part. Her fringe looks flat and pasted to her forehead in this photo, and would have looked much better in a deep side-swept style.
• The wavy blunt bob is bang on trend this season and adds volume to Natasha's slim face, however the blunt cut actually makes her face appear more angular. A few layers around the face to contour her jaw line and soften things up would do wonders here.
• Overall, oblong faces should avoid a blunt shoulder-length bob—it only highlights the "boxy" shape of their faces and doesn't do anything to balance it out. If this applies to you, layer your hair in the front to contour your face shape better.
• Natasha is obviously going for a nude eye/bold lip makeup style here but her red-orange lipstick clashes with her skin and hair tone. A cool red or pink shade like cerise, cherry red or even a light pink would have worked better here.
For even more helpful makeup hints, see our full range of beauty articles and beauty blogs. You can even try some virtual makeup on your own photo or our model using our Virtual Hairstyler!