For example, she minimizes the appearance of her large forehead with a long side-swept fringe and softens up her square jawline with a layered cut that has soft curls added in to the mix. Miranda Lambert also has small, close-set eyes but thanks to her makeup job, she makes them look much larger, and creates a better overall facial balance. If you have the same eye type, then this is one makeup look that will work for you.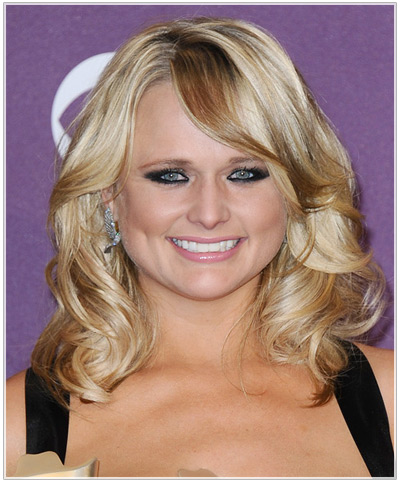 Start by using a metallic silver eye shadow on the lids. Then, dab a charcoal shade onto the outer third of the eyelid and blend it out towards the end of the eyebrow. Finally, use dramatic black eye shadow and apply it around the lash lines, extending the line outwards and upwards to the side to create Miranda's feline look. Blend it out around the edges slightly so you don't end up with a geometric Cleopatra-style eye! Finish it off with mascara and a soft pink lipstick to match and you are done.
Ladies with small or close set eyes will love how this makeup extends their eyes outwards and makes them appear larger. But remember- this is a dramatic look best suited for the evening.
For even more helpful makeup hints, see our full range of beauty articles and beauty blogs. You can even try some virtual makeup on your own photo or our model using our Virtual Hairstyler!