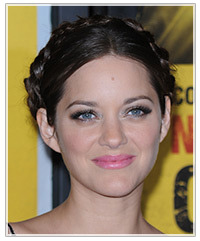 Marion Cotillard has the much-coveted combination of fair skin, blue eyes and dark hair. If you have the same traits, first thank your lucky stars, and then take inspiration from this particularly stunning look.
Marion's hair has been parted in the center with braids pinned around the back of her head, creating a gorgeous frame for her face. Her makeup is simple, but her eyes and lips stand out thanks to her excellent choice of color.
To make your eyes pop like Marion's, use dark brown eyeliner on the top lash line and the outer corners of the bottom lash line. Then layer cool charcoal and brown eye shadow shades around the outer corner of the eye and smoke it out for a soft cat's eye effect. Long lashes are key to this look, so load up on the black mascara, or add fake eyelashes for a more dramatic effect.
Although a nude lip would work well here, Marion's icy pink lips intensifies her blue eyes and brightens up her complexion. Look for a sheer, bubble gum pink lipstick or gloss to bring out your baby blues and porcelain skin.