Actress Malin Akerman loves to work the sexy blonde, blue-eyed look. And why not? This Swedish-Canadian actress was born with fabulous features that should be flaunted! Here, Malin has taken her natural look and given it some edge with super-smoked eyes. This is a great makeup look for a night out on the town, especially if you are wearing a black outfit like Malin. You can copy her look in minutes—here's how: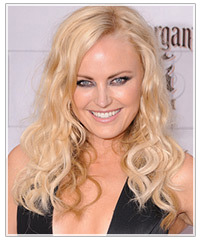 1. Start by warming up your base slightly (if you have fair skin) with a sheer bronzer on the cheeks and temples. This will prevent a Twilight-inspired vampire look.
2. Using deep charcoal and black eye shadow, rim the eyes by layering the eye shadow using a small, soft eye shadow brush.
3. To get Malin's exaggerated cat eyes, use an angled brush to create wing tips on the outer corner of the eye, and blend the shadow on the lower lash line downwards. Create a point on the inner corner as well for more drama.
4. Choose a neutral shade of beige lipstick to keep all the focus on your smokey eyes.
5. Make sure you choose a loose, sexy hairstyle to match!