Gorgeous, talented Mercedes Renard was recently spotted with high-gloss hair, a megawatt smile and…clashing makeover. Mercedes has wonderful hair, skin and features, but nothing can make warm and cool makeup look good together! Let's take a look and see what went wrong with this look.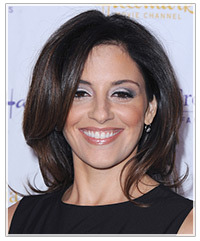 The application is flawless, so no harm done there. Mercedes has large, dark eyes that are warm and inviting. Her eyebrows are always groomed to perfection, which is a must for women with dark hair (think Pippa Middleton's unkempt eyebrows—not a good look!) The light silver eye shadow brings lots of light to her eyes and makes them sparkle even more so. This would be a great look, if only she had used a cool or neutral blush and lipstick instead of the current warm earthy tones. On the other hand, her creamy complexion suits the warm tones well, so she could have kept the bronzy cheeks and lipstick and created a coppery smoky eye instead of the cool silver. Either of these looks would have been amazing on Mercedes, but unfortunately we got a bit of both! Remember to keep your makeup colors on the same wavelength so you can avoid a makeup clash.
For even more helpful makeup hints, see our full range of beauty articles and beauty blogs. You can even try some virtual makeup on your own photo or our model using our Virtual Hairstyler!