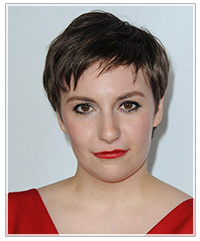 The makeup that Lena Dunham is wearing in this photo shouldn't work. She has ink-black eyeliner on her warm amber-brown eyes paired with candy apple red lips. On anyone else, this makeup would look so harsh, so aging and so Nineties! But on Lena it works. She just has that type of face that can pull of any style in an effortlessly cool way. Lena's become quite an icon for girls who love her fashion and beauty sense that is artsy, edgy and says she could care less what others think of her. If you are one of Lena's fans, you can easily copy this makeup look. Note: This makeup goes best with a simple hairstyle like her pixie haircut, so if you plan to rock this look, keep your hair as plain as possible—no big curls or bouffants please!
Now, to get this look you need black liquid eyeliner and mascara first and foremost. Line your entire upper lash line and the outer half of the bottom lash line. That's it! No flicks, no smudging, just a simple line. Apply mascara to the lashes.
Lena is wearing a light pink blush here, but you can skip this step if you prefer. Finally, line your lips with a candy apple red pencil and follow it up with a lipstick in the same shade. Wear an equally bright red top or dress and voila- you are done!
For even more helpful makeup hints, see our full range of beauty articles and beauty blogs. You can even try some virtual makeup on your own photo or our model using our Virtual Hairstyler!