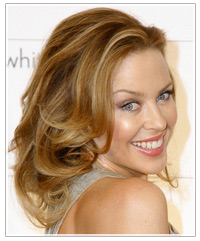 To have a successful singing career, a gorgeous Spanish boyfriend and the ability to stop the hands of time…we should be so lucky! The pint-sized princess from Down Under seems to have it all. Even as she ventures to her mid-forties, Botox rumors aside, Kylie Minogue is looking as radiant and youthful as ever.
Ms. Minogue is another one who knows what works and sticks with it. Her hair color and makeup really haven't changed much over the years and while it can get boring, you can't fault the lady for rocking the same old look. It suits her face and fashion sense, and I reckon she gets all of her crazy hair and makeup out on stage.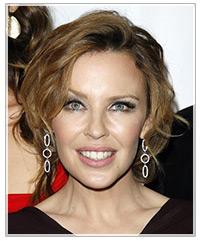 In her downtime, Kylie's makeup is subtle and natural. Her fair skin and hair benefit from her choice of soft pink lips and neutral eye shadow, which keep her looking fresh and youthful. Like many Aussies, she is fanatical about skin care and avoids the sun when possible.
To bring out her almond-shaped eyes, Kylie relies in her trusty Model Co heated wand to curl her lashes, followed by Bobbi Brown gel eyeliner in black, grey or brown. For dramatic night looks, black kohl eyeliner give her those feline eyes she is so famous for.