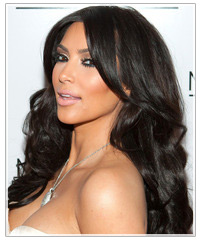 You've got to hand it to Kim Kardashian. She has created a fashion and beauty empire out of nothing more than leaking a sex tape online and showing up at events in all of her glamazon glory. In any case, her large almond-shaped eyes are the perfect canvas for the many ultra-sexy looks that she rocks, helped of course by her mile long mane and famous derriere.
Kim loves fake lashes, loads of mascara and super smoky eyes. Working with her raven black hair and cappuccino complexion, she sticks to black, grey and brown shadows with black eyeliner and mascara. She wears a neutral lip on most occasions…sometimes a little too neutral where it's the same color as her foundation! But, she knows the tricks of the trades and adds a bit of lip gloss to define her perfect pout.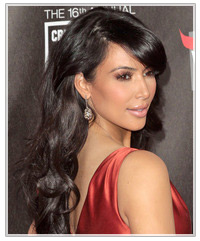 Her girlie glam look isn't complete without a bit of sparkle—Kim loves Givenchy Luminous Cheek Powder and Bare Escentuals shimmer powder around her cheeks and brow bones, and is a big fan of metallic eye shadows. Check out how Kim Kardashian's makeup suits her many different hairstyles by clicking on any of the images in this blog.