This English Rose has seemed to stop the hands of time with her smooth, glowing skin and glossy hair. You too, can get the Kate Beckinsale look if you follow these simple tips.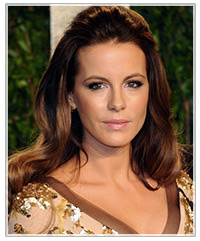 The makeup: Kate has a warm, peachy skin complexion that is common in natural brunettes. Here, she creates drama around her eyes by using dark chocolate eyeliner on the top lash line and the outer corner of the bottom lash line. A smoky brown eye shadow is also used to create a glamorous evening look. Kate has also used it to create an upward sweeping wing at the corners for a feline effect.
Her cheeks and lips look fresh in a sheer peachy-pink color that adds to her dewy complexion. To tone this down for daytime, skip the smoky eye shadow and keep the eyeliner light.
The hair: Kate is rocking a voluminous style that shows off her glossy chestnut locks. To get this look, use large hot hair rollers to create bouncy waves, and then add further volume by backcombing the roots. Comb a thick section from the front backwards and pin into place. Then, complete this gorgeous look by smoothing out the rest of the hair and spraying into place. This hair and makeup is guaranteed to make you look and feel simply ethereal!
See more Kate Beckinsale hair and makeup looks.