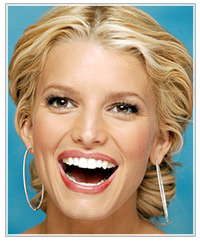 Jessica Simpson has been off the radar as of late, sadly only popping up in the media when she's wearing an unflattering outfit or after she's gained a few pounds. Although her fifteen minutes of fame seem to be up, during her years of relentless media coverage, she did provide some great makeup ideas.
Jessica was always in the limelight, and true to her Southern roots, always had big hair and bold makeup to flaunt in front of the cameras. Her vivacious personality is apparent through her bouncy blonde locks and fun approach to makeup. Although she didn't always get it right, at least she had fun with it.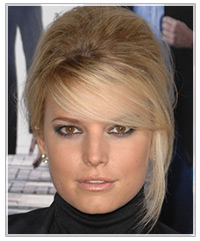 One of Jessica's more fresh looks included soft eye makeup and a nice berry lip. Her brown eyes were enhanced by brown eyeliner and loads of black-brown mascara. Her deep pink lips complement her champagne blonde locks for a modern, chic look. Jessica is a big fan of the bombshell smoky eye. And above, she shows us how to use black eyeliner and charcoal eye shadow to create a subtle yet beautiful smoky look, focusing on the lash lines and extending the shadow just slightly past the corner of the eye. A light nude lipstick perfects this sultry look.
See more of Jessica Simpson's hair and makeup looks.