Korean-born, American-raised Jenna Ushkowitz loves to make the most of her shiny black locks and exotic features on the red carpet, and here she is looking stunning as usual. Asian women can find it difficult to pull off the smokey eye look, but here, Jenna shows us how to do it with ease. By choosing the best shades for her complexion and applying it with finesse, Jenna's eyes look seductively soft and classy. If you have Asian features like Jenna, here's how you can get this sophisticated makeup look.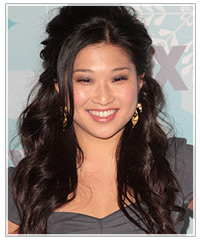 1. Choose lighter colors. Jenna has chosen to work with soft grey shades rather than dark charcoal, brown or black eye shadow. Soft grey just also happens to match her dress!
2. Apply a highlighter shade to the entire eyelid. This will bring light to the eyes, which is essential if you want to avoid the raccoon look.
3. Apply the darker shade on the outer corner only. Then use a makeup brush to blend it up and through the crease.
4. Use a thin line of black to line the upper lash line and top it all off with a lash-enhancing mascara.
This technique will take some practice but with Asian eyes, less really is more when it comes to smokey eye makeup.