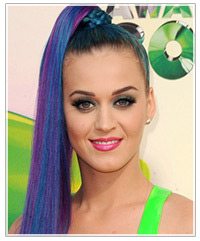 Katy Perry recently complained to the press of how she was sick of fame and being the center of attention everywhere she goes. We can understand how fame and having millions in the bank can get tiresome, however trying to blend in with the crowd whilst wearing neon clothing, a super long hairpiece and equally bright makeup to match, may be a bit difficult. In any case, if you want to copy Katy's colorful look, here's how to get the makeup down pat. We'll leave the hair and outfit to you!
Start with a flawless base so that your bright makeup is the focus, rather than dark circles or blemishes! Next, make sure your brows are up to scratch. Katy Perry is known for her perfectly arched eyebrows, so give yours a quick clean-up with the tweezers. Next, start layering your eye shadow on the lid area. Begin with a light yellow, and then apply a light green, with a darker green in the crease and outer corners of the eye. Don't blend the shadow past the brow bone in this case- bold colors are best left to the lid area only. Finally, take the dark green and apply a thin layer to the lower lash line and blend the edges out slightly. Copy Katy's eyeliner style and use a liquid black liner to create a classic cat's eye. Of course, mascara is essential, or if you want to be extra pop-star, use fake lashes.
We can't forget about the lips, so choose a bright cherise pink like Katy to complete this colorful look.