Sandra Bullock is one of Hollywood's most loved celebrities, due to her down-to-earth beauty and approachable demeanor. She has barely aged over the past two decades that she has graced the big screen, and women everywhere covet her glossy hair and fresh-looking makeup. Being a busy actress and single mom hasn't slowed Sandra down in the style stakes—in fact, she is looking better than ever. If you want to do your makeup like Sandra Bullock, follow these simple tips: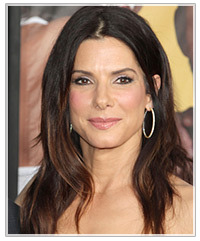 Sandra has a cool skin tone and hair color, so naturally she sticks to a cool makeup palette. Her flawless skin is a great base to start with, but she never overdoes her makeup application or tries trends that would not suit her style.
Here, we see Sandra's classic look—brown eyeliner, soft pink blush and a light nude-pink lipstick. Sandra uses a pencil liner and softly blends it outwards at the outer corner of the eye. She uses a pearl eye shadow to bring extra light to her eyes to avoid the "raccoon" look that can sometimes happen with dark eyeliner. Next, she uses a very light pink blush with a bit of highlighter on the cheekbones, and a matching soft pink shade on her lips. If you want something more bold, go for a dark berry pink instead.
See more Sandra Bullock hair and makeup looks.