Denise Richards is a beautiful lady, but the makeup overkill is astonishing. Makeup is a double-edge sword—it can enhance our natural beauty but if we go overboard it will age us and generally make us look terrible…even comical, as Denise demonstrates here.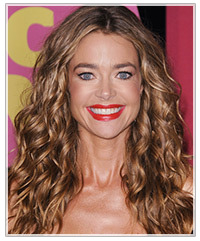 The main problem is that she has very bold eyes and lips going on, which should never happen. If you want to do inky black-rimmed eyes- go for it! Just make sure to leave your lips bare or with just a hint of nude lipstick.
On the other hand, if you want to do a glossy red lip, be our guest! Just keep your eye makeup neutral—a simple coating of mascara should do the trick but if you like a little more makeup on your eyes, stick to a natural beige shade and if you must, a very thin line of eyeliner.
Denise is also very bronzed in the cheek area. It's good to have a glow, but we don't want to see obvious circles of blush on the cheekbones. Skip the bronzer if you are doing bold eyes or lips, or at least use a super sheer, lightweight formula to avoid ruddy cheeks.