Songstress Rita Ora is popping up on red carpets all over the world rocking her signature edgy Brit-cool style wherever she goes. Her trademark hairstyle has so far been a buttery blonde 'do that is always styled with a vintage flavor, and she keeps this theme running through her makeup as well. Here's how to do your makeup, Rita Ora style.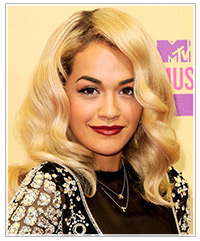 Rita keeps the focus of her look on her eyes and lips. To get her striking eyes, first start with the eyebrows. Choose a pencil that matches your eyebrow color or is slightly darker. Fill in the patches and trim any stray hairs under the arches to get a crisp shape like Rita's. Then, bust out the dark brown or black liquid eyeliner and create a dramatic cat's eye shape. Rita has brown eyes and uses a soft brown eye shadow on the lids. This shade would work for blue and green eyes as well.
Next, she uses a soft rosy blush on the apples of her cheeks. When you are wearing such a dark color of lipstick, it can be easy to get color overkill, however Ora's got just the right amount on. Finally, those dark and dramatic lips are the icing on the cake. Rita has used a true blood red shade, but don't be afraid to go even more vamp-like and try out the black-red shades that are hot this season!