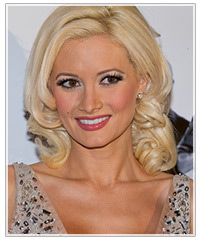 Holly Madison made her name as one of the Playboy mansion bunnies on reality TV, but her new role as mum-to-be has really transformed her sense of style and beauty. Before, Holly was all about skimpy outfits, tanned skin and Barbie-blonde hair. Now, Holly is transforming into a natural beauty, flaunting a relaxed glow and a much more sophisticated look. Here's how she went from Playboy bunny to yummy mummy: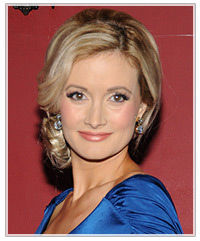 • The Hair: Gone is the bleach-blonde bombshell hair and in comes the more natural-looking honey hue. Holly has added dark blonde lowlights to her hair, instantly giving it a more natural look, not to mention making her skin look fresh and glowing. In addition to her new demure shade of blonde, her hairstyles are more sophisticated as well. Barbie curls and pigtails have given way to low chignons and more relaxed 'dos.
• The Makeup: Holly still glams up for a night out but now she lets her natural beauty shine through, using makeup to accentuate her features. Before, heavy eyeliner, fake lashes and bright lipstick were Holly's thing—now she is choosing softer shades with a hint of shine- stunning!
There's no doubt Holly looks better than ever—but the question is, will she keep this new look up, or revert back to her bombshell beauty regime?
To see how you'd look with any of the great hairstyles pictured in this blog, click on the above images to try the virtual hairstyles with your own photo!